A BRIEF HISTORY OF OTTOVILLE
When you enter the town of OTTOVILLE on the main highways you will notice a historical marker that reads
OTTOVILLE
FOUNDED 1845
NAMED FOR REV. JOHN OTTO BREDIECH
ORIGINALLY KNOWN AS
"SIXTEEN"
This simple description evokes the reasons the town was founded and the man who was so instrumental in its earliest foundations.
In 1837 the Miami-Erie Extension Canal between Loramie Summit and Junction was contracted out for completion and was divided into one mile sections. The Northern Division was numbered with Section One at Spencerville, Section Ten at Ten Mile Woods later Delphos and Section Sixteen later named Ottoville. The Miami-Erie Extension Canal was completed and the first boat traversed the entire length in June 1845. The Locks on the extension canal were numbered north from Loramie Summit and the Village of Ottoville grew between Locks 27 and 28. Lock 27 was just north of Fifth Street and Lock 28 was located just north of the present site of Odenweller's Mill. Those two locks, as most locks on this section of the canal, were built of wood. The Canal Commission built a Lock Tenders' house at Lock Number 28 and that structure still stands as a home and is the oldest structure in Ottoville. Lock Number 30 was a stone lock built further north near the Putnam/Paulding County Line. You can see a prime example of a stone lock at Delphos, Lock Number 24.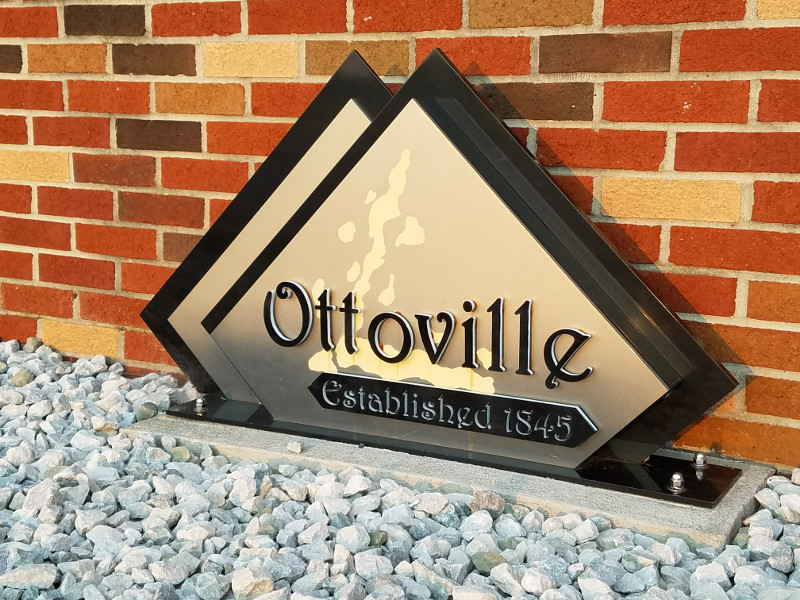 John Otto Bredeich
JOHN OTTO BREDEICH: a man of letters, education, foresight and heir to substantial means, was born on January 23, 1789, the year of the adoption our US Constitution, in the European Country of Prussia in the District known as Westphalia in the city of Verl near Osnabrück. The Bredeich family were of the Prussian Landed Aristocracy and had considerable wealth and were very well connected. They were Catholic at a time when Westphalia was ruled by Prince Jerome Bonaparte, the brother of Napoleon, who was virulently anti-Catholic. But, because of the family's wealth and connections, they were left to quietly practice their Catholic religion. This was not the case for most other Catholics of the region who were systematically denied education, political position, business or land opportunities or freedom of religious expression. This was the situation that existed in Germany and caused John Otto and his brothers, Josef and Ferdinand Bredeich to look to the new world and the United States for the establishment of a Catholic colony in a nation that guaranteed freedom of worship under the Bill of Rights and the Constitution.
In 1834 two events occurred that would lead to the establishment of the villages of Delphos and Ottoville. The first was the completion of the first sections of the Miami-Erie Canal which would eventually connect Lake Erie with the Ohio River at Cincinnati. And the second, was the banishment of Ferdinand Bredeich from Prussia for political actions against the ruling Prince and his government. Ferdinand had been imprisoned and John Otto and Josef Bredeich had to bring to bear their family's wealth and political connections to free the young firebrand from prison. Part of the deal, besides a sizable bribe, was accepting exile for Ferdinand Bredeich.
John Otto realized that fate had offered an opportunity for him and his family to do what could not be done in Prussia, provide a community for Catholic families to live, worship and prosper in relative peace and tranquility. They would use their family fortune to establish a Catholic colony in the United States. Ferdinand Bredeich left for America in 1834 under the protection of Father Horstman who would found the village and Parish of Glandorf in Putnam County. Here a twist of fate assured the eventual establishment of both Delphos and Ottoville. On the trip across the Atlantic, Ferdinand had become enchanted with one of Father Horstman's colonists named Maria Wrocklage. Upon completing the survey of available lands as far west as Iowa and Kansas, Ferdinand returned to Glandorf to court and marry this young lady. It was in the winter of 1835 that Ferdinand met a most remarkable man – Samuel Forrer – who happened to be wintering in Glandorf recovering from a fever. Samuel Forrer was the state appointed engineer to survey the western canal routes for the Ohio Canal Commission. By letter Ferdinand had been keeping his brothers advised of his findings and when he told John Otto of the information he had gleaned from his winter-long conversations with the engineer, Samuel Forrer, John Otto instructed him to obtain control of property including lock sites for it is there that power and prosperity will accumulate. Ferdinand received a sizeable bank draft of nearly fifty thousand dollars with the instructions to buy land throughout the canal corridor.
It was with this fortune and inside information that the Bredeich family were to establish the Catholic communities they had dreamed. The first expedition in late 1843 was led by a brother-in-law, Theodore Wrocklage, and included forty-two members. The second expedition of about the same number was led by John Otto Bredeich and in October 1844, he personally entered his primary tracts of land at what would later become Delphos and Ottoville. John Otto Bredeich applied his family's fortune to pay for all the costs of emigration of the first two waves of German settlers, including fares from Germany, tools and seeds to establish their colony and the subsistence needed to survive.
John Otto Bredeich created the Parishes of St. John the Divine at Section Ten and St. Mary's at Section Sixteen. He and his family's sizable fortune would establish the first saw mills, boat dry docks and grist mills at both sites and his bequests would finance the present church buildings in both Parishes. Section Ten would be chartered in 1851 and named Delphos as suggested by Father Bredeich and Section Sixteen would later become an incorporated village in 1890 and named Ottoville in his honor.
Compiled by Russell Schlagbaum November 2014
Sources
"Reverend John Otto Bredeich, A Bicentennial Perspective"
by Reverend Monsignor Christopher P. Vasko © 1989
"History of Ottoville & Vicinity, 1845 – 2001"
By Rita Turnwald © 2005